Overview
JINS Eyewear is a global leader in providing stylish, innovative, and functional eyewear at accessible prices. JINS offers a vast selection of high-quality frame selections, complete with premium prescription lenses, designed to fit a wide variety of face shapes and nose bridges, amplifying the brand's unique position as 'everyone's eyewear.' 
Customers who shop at a JINS store or on their website are offered a unique and personalized shopping experience designed to ensure they find the best fits for their facial features and style preferences. There is a wide array of frame shapes, materials, weight, and lens options offered, but customers are never overwhelmed, and are delighted with the endless combinations. It is evident that every single detail of the shopping experience is to ensure customers are well informed on which options are best for their needs and preferences, and ultimately being satisfied with their purchases.  
With an already well established brand across Asia that operates over 400 retail locations and a strong ecommerce presence, JINS is targeting the US as a key market in the next phase of expansion. 
Opportunity
To distinguish itself from the competition, JINS is committed to bringing an elevated and more personalized in-store and online eyewear shopping experience to customers in the US. JINS physical retail stores are highly optimized to help customers easily personalize their eyewear with detailed product displays, informative infographics, and knowledgeable staff. J!NS is presented with the opportunity to replicate the same personalization experience online to drive greater customer engagement with the brand and its products.
Solution
Visitors to the JINS website are immediately presented with the personalization experience the moment they land on the home page. Starting at the hero section of the page, shoppers are offered the options to select a gender, followed by fit types below. A wide variety of frames, based on style, material, colors etc… are presented with any fit selected by the visitor. As visitors browse through individual frames, they are also offered the opportunity of a 'virtual try on,' a simulation, leveraging the visitors' camera, to provide a preview of what the frame will look like on the visitor's face (see example here). 
To further elevate the online shopping experience, JINS has identified an opportunity to accelerate the frame selection process based on personal attributes. JINS started exploring the idea of integrating social chat commerce with their website experience, to provide visitors with real-time interactions capable of making frame and other product recommendations based on personal preferences and fit requirements… similar to the in-store experience of asking a knowledgeable staff member for additional information and frame suggestions. 
Working closely with ZEALS.ai, JINS successfully integrated an automated chat experience that further enhanced the personalized experience on the site. Visitors browsing the website and various product pages are dynamically served a pop-up, offering to help them with the frame selection process. After a brief interaction with the chat experience, visitors are then presented with frame and/or lens selections that best match their fit and style preferences. This experience greatly accelerated the process of helping visitors quickly learn about products that are most relevant to their preferences, increasing the velocity and rate of conversion.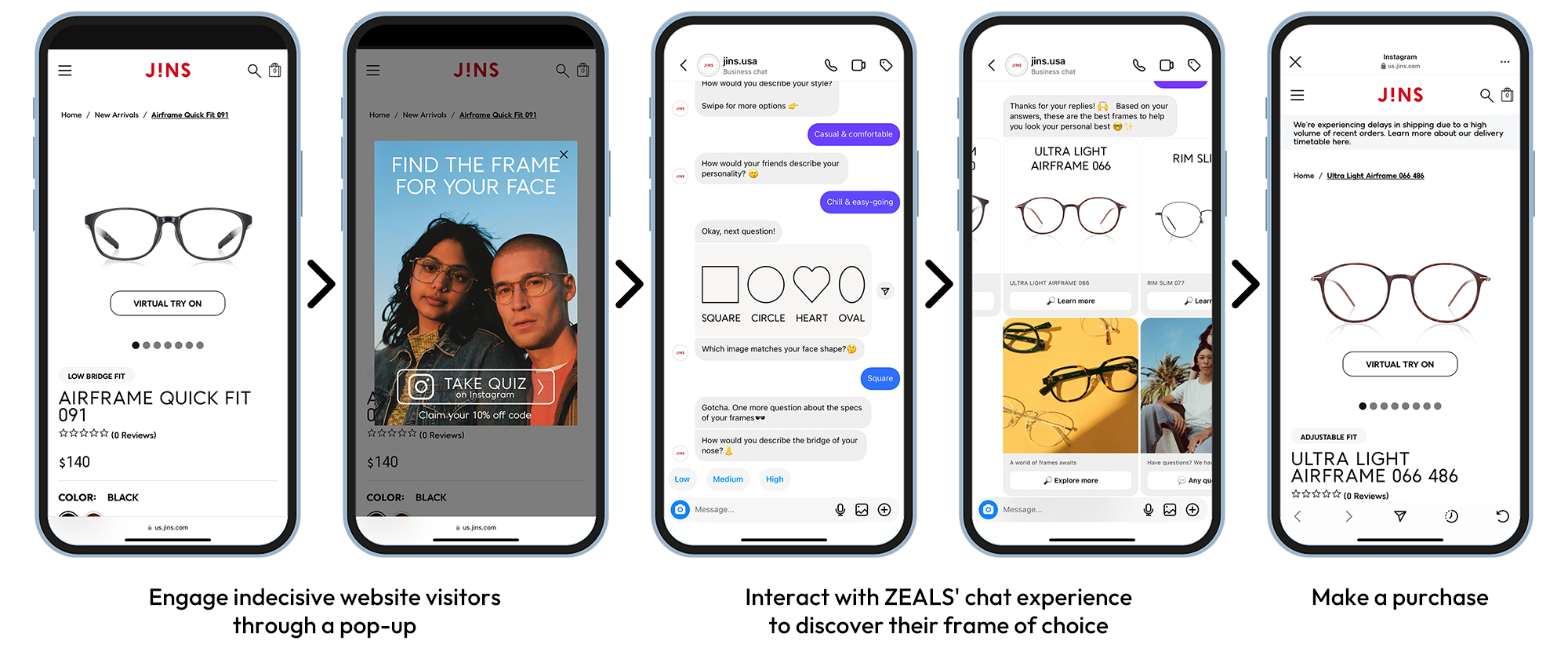 Results
– 11.5% of site visitors who interacted with the ZEALS.ai chat experience converted
– Over 88% of the users that initiate the chat experience are offered a personalized recommendation
Outlook
With the initial success with ZEALS.ai, JINS continues to identify new opportunities to elevate the user and shopping experience on their website. "We greatly appreciate the flexibility and level of service the ZEALS.ai team has provided, as we continue our journey to grow as a competitive eyewear brand in the US," a statement provided by Michael Sanders, the VP of brand and marketing in the US. When asked about what JINS look forward to the most about working with ZEALS.ai, he stated, "We are also excited to further leverage the zero-party data generated from the chat interactions to enhance our personalization and targeting capabilities on the website."