What is Brand Innovators? 
Brand Innovators is one of the largest community of brand marketing leaders from Fortune 500 and other top brands within the United States. Brand Innovators hosts dozens of panels and networking events year round, from coast to coast, where marketing leaders from all industries come together to discuss and exchange insights on emergent trends in consumer behavior, technology, and advertising. ZEALS.ai is proud to have recently joined as a member and sponsor of the Brand Innovators community. 
The power of building relationships
On September 14th, I had the pleasure of joining the most recent Brand Innovators' event in Miami, Florida and hosting two panel discussions. The theme of the first talk was 'The Power of Building Relationships,' with speaker Emily Loewy, senior director of marketing strategy and planning from Oceania Cruises at Norwegian Cruise Line. As the lead conversation designer at ZEALS.ai, I know the power of creating authentic, engaging relationships with your audience. I drew on my expertise in developing chat commerce solutions to discuss the role of relationship-building in marketing on the main stage. 
It was interesting to hear the insight from Emily on how partnerships and customer relationships are built in the cruise industry. Norwegian Cruises wasn't the only cruise line to join the event: I also had the opportunity to hear from Virgin Voyage about how they are using AI as well as chat commerce in order to engage with their customers and attract new audiences. 
About changing consumer needs
The second panel that I hosted that day was on 'Changing Consumer Needs.' I was joined on stage by Jessica Serrano, VP of marketing at DIG. Our discussion delved into the two biggest disruptors in consumer needs in recent years: COVID-19 and AI technology. DIG is a success story within the restaurant industry of how to adapt and thrive where many businesses, especially in this vertical, are falling behind. In the past couple of years, DIG has changed its business model, expanded its product offerings, and changed its real estate portfolio in order to keep up with the shifting demographics of urban dwellers and takeout consumers. 
When I asked Jessica how technology is aiding or disrupting the restaurant industry, she mentioned that AI and chat commerce are an enormous opportunity for engaging customers in a more timely and efficient way, whether it be managing customer support tickets or taking an order.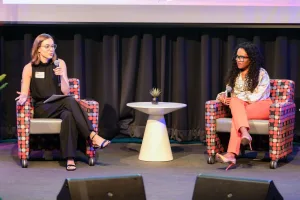 AI and emergent technologies 
Throughout the course of the day, AI and its applications came up frequently through case studies and marketing examples. Senior marketers from top companies are looking for tools and methods to stay ahead of the marketing curve, to engage their audiences in new and authentic ways. 
ZEALS.ai and chat commerce 
I and my colleagues who attended the event were excited to share, on and off the main stage, about our ability to grow revenue and conversions through our chat commerce solution. Each brand had a unique take on how chat commerce can complement their branding efforts at each stage of the marketing funnel. 
The event was illuminating, stimulating, and rewarding; I can't wait to see what the next Brand Innovators event has in store.